Adrian J Cotterill, Editor-in-Chief
Healthpoint Technologies, a provider of interactive digital signage tools and health care information for pharmacies has been established in the UK for over 10 years and today its screens can be found in pharmacies across the UK and Ireland.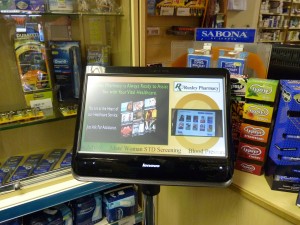 More than 1300 systems have been installed in over 850 locations at Independent Pharmacies, Multiples, Health Boards and a number of National Pharmacy Association (NPA) board members have also taken the system.
John White from Healthpoint explains that one of the objectives of this system is to allow pharmacies to display advertising and useful medical information in a sleek and persuasive way "We use Signagelive to manipulate our digital TV content and we are also using Signagelive Screensaver software to display information when Healthpoint Touchscreen kiosk is not in use."
White adds "Pharmacies can take advantage of the adverts on Healthpoint network to let their clients know what's on offer therefore providing a better service and boosting sales. They can also upload their own messages and promotions using a simple play list"
Healthpoint offers different products depending on the pharmacy's size, layout and needs; from stand-alone kiosk systems, to Healthpoint TV and Healthpoint interactive screens. The monitor sizes in the pharmacies vary from 22in to 42in.
"On Healthpoint we have 3000 topics, all fully approved by the NPA," says White "The displays can have RSS feeds, QR codes, twitter and facebook. Live TV can also be included. The content is of very high quality and since it uses broadband connection, it can be instantly updated both for single units and throughout multiple installations".
A feature we believe that is proving popular within pharmacies, is Signagelive Local Playlist – Local Playlists gives users the ability to incorporate a playlist in to an existing playlist timeline, i.e. any pharmacy can add its own promotions and advertising onto the ads playlist.
Ultima Business Solutions, an IT infrastructure solutions provider, is in charge of installing the screens and setting them up to work seamlessly with Signagelive.