Adrian J Cotterill, Editor-in-Chief
RAM Vision has expanded its network of high impact iconic screens to include three more premium retail locations.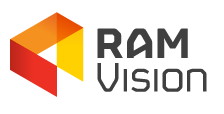 The five-year contract to supply, install and commercialise the new sites has been signed with the property company Capital and Regional and comes in the same week that the company unveiled a major rebrand (see new logo to the right here) and also the launch of its new website.
The first of the planned installations, The Mall Maidstone, was completed recently and the remaining two sites, The Mall Walthamstow and The Kingfisher Shopping Centre Redditch, will each be installed with one of RAM Vision's iconic screens, to be in place for the important fourth quarter of the 2012 trading period.
Stephen Rister, commercial manager for Capital & Regional told us "The Iconic screens RAM Vision has installed at The Mall Blackburn, Luton and Wood Green have already proven popular with shoppers and retailers alike and we are confident they will do just as well in our other centres."
These three new Iconic screens bring the total number of Iconic screens within RAM Vision's estate to twenty.