Adrian J Cotterill, Editor-in-Chief
For us there's always a good reason to be in Munich and it usually starts with the letter 'b' and ends (in several languages) with the letter 'r' but on Monday and Tuesday, 1st and 2nd October there are two other reasons to be in the city (okay, one other reason, cos' reason #2 is Oktoberfest which is of course all about bier)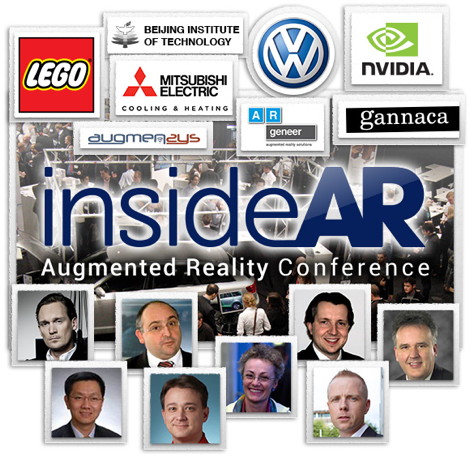 Whilst it's early days for insideAR 2012 being held at the Eisbach Studios, Berduxstraße 30, 81245 München (we believe that this is its second year) this event looks like it could be something that could really grow and be of real interest to the industry.
Day 1 will cover the current developments in the various application fields for Augmented Reality. Keynotes from leaders and visionaries in the field of AR, relating to the current status and future of the vision, technology and business opportunities available with Augmented Reality, will be given throughout the day, along with full access to the exhibition area
Day 2 focuses on technology and new, exciting ways to implement Augmented Reality into your visual communication processes using the metaio software platform. metaio will unveil its roadmap for the direction of their groundbreaking technology showcasing the latest breakthroughs in Augmented Reality
Most of the speakers have now been announced, which include a number of industry leaders and visionaries in the field of Augmented Reality: –
Olav Gjerlufsen: Director Digital Producers at LEGO
Neil Trevett: NVIDIA
Prof. Dr. Yongtian Wang from the Beijing Institute of Technology, China
Gabriel Weiss: Mitsubishi Electric, Cooling and Heating Solutions, USA
Christine Perey: PEREY Research and Consulting
Christopher Peterka: Managing Partner of gannaca
Prof. Dr. Werner Schreiber: Volkswagen
Helmut Guggenbichler: CEO of Augmensys
Rafael Mroz: Co-Founder of Argeneer
We note that "*** metaio reserves the right to exclude or remove any undesirable person from the premises without liability" so we may not actually gain access but at present they have said we can come along!!
More information and registration can be found here.