Have you won a GBP 63.8m lottery jackpot? Well, to be more exact, have you won a GBP 63.8m lottery jackpot and NOT claimed it?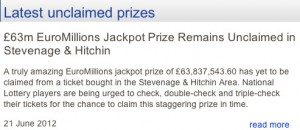 In the UK at the moment there is a an unclaimed win for that amount and Amscreen has teamed up with Camelot to help find the lucky winner.
They (Amscreen) are currently screening creative content on six screens in the Amscreen network in the Stevenage and Hitchin area as Camelot are running a 48 hour search for the ticket holder who is yet to come forward and claim their winnings.
The campaign will not surprisingly encourage people to check if they are in possession of the winning ticket and to let them know that they have until Sunday to claim the prize (somehow that works EVEN if they have lost the ticket – yes yes yes it was me!, Ed)
Simon Sugar, CEO of Amscreen said "This is a great example of how we can turn around campaigns extremely quickly. Furthermore, it demonstrates that our screens are an effective means of advertising as we have worked with Camelot several times before and they have chosen to use us again for this activity."
Having advertised on the Amscreen network several times before to promote their Euromillions draw amongst other activity, Amscreen's ability to target specific areas and their nationwide presence has provided Camelot with a quick and effective method of reaching a large audience.