Adrian J Cotterill, Editor-in-Chief
Wrongly billed by all and sundry as the biggest digital billboard campaign in British history (that honour goes to the World's Biggest Coffee Morning campaign for Macmillan Cancer Support back in August / September 2008 which saw 32 networks come together to donate air time) this missing person campaign for the charity Missing People is no doubt a worthy cause.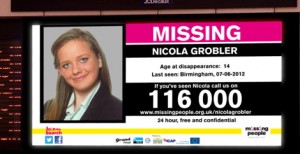 The campaign will see appeals on donated digital billboards in major cities including London, Birmingham, Manchester and Glasgow, running across rail and underground networks, on high streets and in shopping centres – though I am sure if folks were honest, without Amscreen's support (and more of that later) there would be little or no exposure outside the UK's major cities.
The advertisements include details of individual missing persons, creating awareness of the new number to call for sighting – 116 000 – and harnessing the public's help to join the search.
Kate McCann, an ambassador for the charity Missing People, said "More than 250,000 people are reported missing each year in the UK – worryingly they could fill the Olympic Stadium three times over. Thankfully, campaigns like this can play a vital part in the search".
In May, two youngsters featured in the charity's 'Big Tweet for Missing Children' were found safely.
The Outdoor Media Centre estimate that the value of the advertising space donated by the outdoor advertising industry is over GBP one million and that the campaign could reach over 10 million adults† during the summer months.
Worryingly, for an organisation that supposedly represents UK outdoor media interests (we all know that the OMC only looks after the interests of its members; JCDecaux, CBS Outdoor, Clear Channel, Primesight etc.) they repeat the fallacy, we quote from the press release "when – thanks to the Olympics – Britain will be at its busiest".
Simply not true, London and the UK itself will actually be no busier than normal. Everyone will arrive and leave within a short timeframe and it is only the spread that is different. At certain peak times it will be busier than normal BUT over the whole of the Olympic period the number of people present in London will likely be very similar to what it always is.
Hotels for example are saying that during the Olympics they are not forecasting to be fuller than usual – it therefore remains to be seen if the numbers over the whole period will be higher than usual given the mix of business change (i.e. tourists instead of business people).
Anyway, I digress, apart from space donated by the OMC members, Amscreen have donated significant air time – around 3000 sites across Amscreen's healthcare and forecourt networks in the whole of the UK and the Amscreen ads alone will reach nearly 25million UK adults††.
CEO Simon Sugar told us "Amscreen are delighted to be able to support such a worthy cause and to be a part of an unprecedented digital campaign such as this. Flexibility and speed are both essential when it comes to advertising Missing People appeals, and our ability to get content on to screens across the UK within a matter of minutes is a great advantage and we hope it will be of great benefit to the campaign."
Bottom line, it's a good campaign and a worthy cause even if the figures are a bit iffy.
†OMC said 10 million adults in their press release

†† In a later separate press release Amscreen threw out the figure of 25 million adults across their network alone