A digital outdoor display installed in Dothan, Alabama represents 2,000 off-premise advertising displays built and installed worldwide by YESCO Electronics since 2002.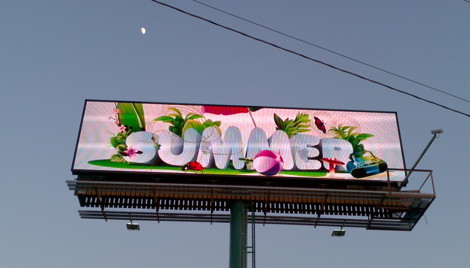 The display is owned and operated by Durden Outdoor Displays, Inc. Dothan, AL. Durden owns and manages over 1,000 bulletin, rotary poster, and digital faces across 8 counties in southeast Alabama. According to Bill Durden, Vice President and Creative Director, "The Durden digital network uses YESCO to make our clients famous. With 19 displays in southeast Alabama, we've found that YESCO products produce beautiful colors and are stacked deep with features."
The spectacular 20mm pitch, 11′ x 42′ Durden billboard located on US Hwy 231 fired up quite unceremoniously. YESCO Electronics Field Technician Earl Wright stated, "It was a pretty typical install. We had the display up, running, and waiting on broadband connections in just a few hours."
The significance of 2,000 digital outdoor displays lies in the expertise YESCO Electronics has provided to the Billboard industry over the past 10 years. YESCO Electronics is active with the Outdoor Advertising Association of America (OAAA) on code and legislative concerns, was integral to the integration of the AMBER Alert system with digital outdoor, and continues to set industry standards in ease of installation, brightness, image clarity, contrast, energy efficiency, durability and serviceability.