Gail Chiasson, North American Editor
Cloud Nine Media and DragNFly Wireless are partnering to bring free, unlimited Wi-Fi access to select malls across the US. beginning in Q3 2012.

Cloud Nine, which currently provides Wi-Fi sponsorship and advertising at over 5,000 airport, hotel, metro and other locations nationwide, will provide sponsorship for this initiative. For nearly 10 years DragNFly Wireless has rolled out and managed venue-branded guest WiFi at hundreds of locations, including shopping malls. The target market will initially include 24 mall locations, and expand to additional locations over the course of the year.
Cloud Nine has prior experience running retail WiFi sponsorship programs in Westfield malls for advertisers including SmartUSA, Old Spice, Belkin, Symantec, AirLingus and others. The Wi-Fi sponsorship model allows advertisers to deliver targeted offers, video, rich media and more to engaged users connecting to public hotspots in exchange for free access. These promotions are appreciated by consumers and can be used to drive foot traffic and transactions for both mall tenants and national brands.

Cloud Nine Media lets advertisers trade free Wi-Fi access for 30 seconds of positive, brand-safe engagement with millions of tech-savvy WiFi users in thousands of premium airport, hospitality and retail locations worldwide.
"Over $230 Billion is spent in US shopping centers each year," says Sebastian Tonkin, Cloud Nine CEO. "With an increasing percentage of shoppers connecting to Wi-Fi on their smartphones as they shop, retail WiFi sponsorship represents a massive opportunity to engage interested users on their own devices right at the point of purchase. We're thrilled to be able to add DragNFly's locations to our network and partner with them in exploring this exciting new space."
Wi-Fi has broad coverage these days in places like airports and hotels, where people spend an extended dwell time. It remains less common to date, however, in in-market venues like malls, where the audience tends to be more actively shopping, or taking a break between stores. This makes the audience particularly receptive to useful, relevant advertising that is location-specific.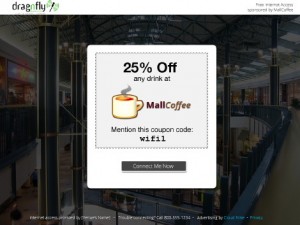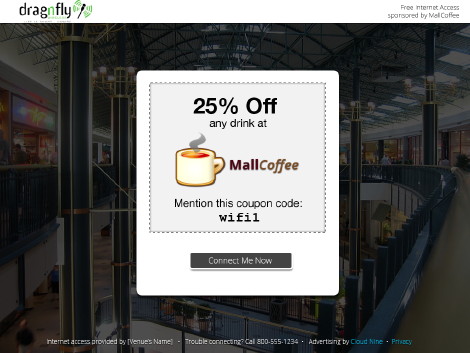 Apparently Google is among the first advertisers at the launch. While we have no examples of what any advertiser's opening page will look like, we're told that the mock-up at left is an example of what mall customers using the Wi-Fi might see.
"Shopping centers have begun to realize that WiFi is a 'must-have' amenity," says Duran Johnson, president of DragNFly Wireless. "With a flood of Wi-Fi enabled phones, media players, tablets, and eReaders pouring into shopping malls, combined with the use of social media and shopping apps, it's no surprise that shoppers want WiFi to make the shopping experience bette. All truly complement each other. We are honored to partner with Cloud Nine in order to leverage their network of advertisers for our customers."
Malls offer a unique opportunity to deliver hyper-local advertising, by device type, in high traffic, in-market locations, to a population that relies more and more fully on mobile devices to make decisions while shopping. This market will represent a particularly interesting opportunity for advertisers in food, entertainment, fashion and electronics to work with Cloud Nine to make contact with some of the 197 million American adults who visit a mall each month, staying an average of 1.3 hours per visit.
DragNFly Wireless enables brands to provide great, easy-to-use Wi-Fi for their customers and leverage Wi-Fi as a marketing tool at any location where people gather: shopping malls, restaurants, fitness centers, hotels, cafes, salons, outdoor shopping areas, marinas, bars, and more.