Gail Chiasson, North American Editor
As part of the ongoing campaign to raise awareness of a whooping cough epidemic and how people can protect themselves and others, Clear Channel Outdoor is leveraging the power of digital billboards to help the Washington State Department of Health.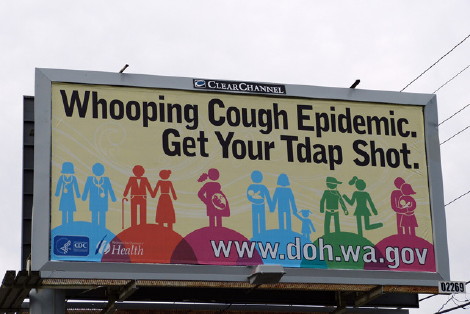 Working to extend the department's current advertising campaign, Clear Channel Outdoor donated the company's 10 digital billboards in southern King, Pierce and Snohomish Counties to the effort in hopes more teens and adults will see the message and get the Tdap booster to protect young children from whooping cough.
Washington State is in the middle of a whooping cough epidemic. There are more than 2,800 cases of whooping cough currently reported in the state, the most in three decades. Whooping cough, or pertussis, is a highly infectious respiratory disease that causes violent and rapid coughing fits. These fits can last for weeks, and cause serious complications, especially to young children.
Digital boards are considered a great solution, especially in times of crisis, because messages can be disseminated quickly in a time of crisis and can be updated easily when there's new information.
"Clear Channel Outdoor works with and supports many great organizations doing great work, but this campaign by the Department of Health is critically important because it focuses on the health of children," says Pam Guinn, president of Clear Channel Outdoor – Seattle/Tacoma Division. "We applaud the Department of Health and encourage teens and adults to be aware of this vaccination to ensure the health and safety of all kids."
The department launched the statewide campaign in June to spread the word that teens and adults need the vaccine to protect young children from the disease. The effort with Clear Channel Outdoor is one element of this campaign, which also includes broadcasting the message on 43 billboards and transit signs geographically targeted to reach the counties most affected by the whooping cough epidemic. This includes the digital billboards in the three aforementioned counties.