Gail Chiasson, North American Editor
GoGo Cast Inc., a Cranston, Rhode Island-based company offering dynamic content and digital merchandising in the place-based Digital Out of Home space, is acquiring Toronto-based Dingo Mobile Inc., specialist in the development, deployment and management of social-based mobile applications for iPhone, iPad and Droid devices.
GoGo Cast will acquire all assets, source code and subsequent patents to the Dingo Mobile Events application, including the recently announced GoGoMobile application. Purchase price was not announced.
Mobile software and brand developer Dingo built GoGoMobile its own recently announced integrated social network that combines time and location with consumer interests.
GoGo Cast's GoGoMobile application improves marketing ROI by delivering meaningful and significant offers, called GoGo Deals, when and where the shopper wants them using geo-fencing technology. The mobile platform is both location-aware and time-sensitive allowing consumers who are interested in finding sales and specials on their favorite products to set triggers that notify them when deals become available in their area.
GoGoDeals are easy to redeem at the local dealer and do not require the hassle of bar codes, coupons and credit card subscriptions. GoGoMobile's popularity element, which is integrated with Facebook and Twitter, gives users the capability to share information and add new deals they find, as well as invite friends to GoGoMobile directly from their mobile device.
"This acquisition brings a tremendous opportunity for brands and vendors to extend reach beyond the traditional social media engagement," says David Paolo, president and CEO of GoGo Cast. "Dingo Mobile's team of social networking experts coupled with GoGo Cast's unique digital signage marketers will provide a cost-effective and highly efficient means for marketers to engage consumers with information and offers they are looking for and connect them with the businesses that are providing it."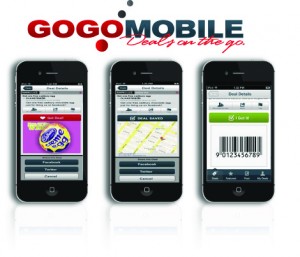 Dingo Mobile claims to have created the first geo-social, time-sensitive mobile application. This hyper-local promotional solution lets marketers get their message out instantly, exactly where users are looking to find it, act on it and share it with their peers. The application's proprietary Facebook integration allows users to import a prefiltered set of friends based on their current location and relationship and share the deals they find with them. This flash marketing technology gives businesses an opportunity to make their brand part of a new social space, delivering messaging when and where consumers are about to make a purchase decision.
Speaking of becoming part of the strong GoGo Cast brand of digital media solutions, Daniel Wilchesky, CEO and co-founder of Dingo Mobile Inc., says, "GoGo Cast's current network has an enormous reach of critical mass consumers hungry for the best geo-targeted deals and events available and the collaboration of both of our offerings will prove to be a win/win for marketers."
GoGoMobile's application is integrated with GoGo Cast's in-store GoScreen network, enabling user engagement with deals and offers at all touch-points from discovery to purchase.
GoGo Cast's premier digital in-store displays enhance customers' in-store experience and give vendors the opportunity to highlight key selling points, complementing traditional point-of-purchase advertising. It offers a full-featured vendor portal for creating, distributing and managing 'Deals on the Go' campaigns, as well as a HTML5 website specifically formatted for smart phones using geo-fencing for deal location.