Gail Chiasson, North American Editor
Stratacache, Dayton, Ohio-based provider of scalable, high-performance digital signage, content distribution and enterprise video acceleration technologies, has launched a Digital Menu Board Experience Center at its Dayton headquarters.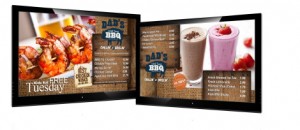 Sprawling 8,000 sq. ft. with over 20 different current and future Digital Menu Board systems, Stratacache's DMB Experience Center is designed to provide a hands-on evaluation, comparison and testing environment of numerous technologies available for quick-service and fast-casual restaurants.
Continuing to build on its significant experience in Digital Menu Boards, Stratacache's new DMB Experience Center provides visitors with the opportunity to examine every detail of the DMB evaluation process. Visitors can mock up their exact requirements, test with focus groups and determine what layout looks best within their specific environment while validating the requisite physical and financial models necessary for success.
From feature boards to 8-panel array systems, kiosk ordering, mobile interactive, digital play and cutting-edge outdoor solutions, the DMB Experience Center showcases products and features unique to Stratacache DMB solutions. The DMB Experience center also showcases a wide selection of display options and types (Standard Bezel, Super Narrow, CCFL, LED, High Availability, High Brightness, Outdoor, etc.) from multiple manufacturers, ranging in size from 12" to 82".
"We recognize that there are a lot of questions about what DMB solution is right for the customer and that there is no one-size-fits-all approach for a DMB solution," says Chris Riegel, Stratacache CEO. "Each customer requires a customized solution based on standard and cost effective technology that fits their existing space, consumer needs and budget. The DMB Experience Center offers customers the ability to plan, mockup, test and compare until the ideal solution is achieved—allowing customers to see their desired DMB layout exactly as it would look in their environment."
Stratacache's ActiVia for Media digital signage software offers a full Digital Menu Board solution for traditional multi-panel menu boards, specialty/feature product menu boards and outdoor drive-thru boards. With ActiVia, restaurants can easily change menu board items, adjust pricing, day-part menus, automatically integrate caloric and point-of-sale pricing, hyper-localize offers and promote premium items as needed. With over 50,000 ActiVia Digital Menu Boards worldwide and over 1 million STRATACACHE software licenses globally, Stratacache has a proven track record for scalability, flexibility and integration to even the most complex operating environments.
The grand opening of Stratacache's DMB Experience Center aligns with the increasing demand for alternative menu labeling options to comply with new nutritional and caloric menu labeling laws mandated by the United States Food and Drug Administration.
With varying new regulations, including disclosing the number of calories in each standard menu item, many foodservice establishments are shifting from static menu boards to digital menu boards. As a more efficient solution, digital menu boards allow instantaneous menu changes and don't incur costly printing fees and long lag times each time a menu item needs updated—outlaying all the necessary components to adhere to new menu labeling regulations while still being a cost-effective solution.
"The Stratacache DMB Experience Center is the ideal destination for the latest digital menu board technologies," says Riegel. "We invite anyone interested in learning more about how digital signage and digital menu boards can impact their business to visit the center."
Appointments can be booked to tour the DMB Experience Center, by emailing sales@stratacache.com.
Stratacache is a privately-held provider of efficient, scalable and cost-effective digital signage, IP video, content distribution and enterprise video acceleration solutions. It works with over 300 of the world's largest firms in the retail, finance, service, hospitality, manufacturing, media and government sectors.