Adrian J Cotterill, Editor-in-Chief
"Creepy Computer-Generated Avatar Greets Travelers At Newark Liberty" writes CBS New York as 'Libby' is deployed at Newark Airport.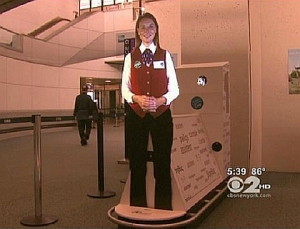 The news channel CBS reports that the Port Authority of New York and New Jersey spent USD 180,000 on Libby and four machines like her.
Comments from passengers (and comments left on the web site) are not particularly glowing however travellers we understand will soon see them also deployed at John F. Kennedy International and LaGuardia airports.
It's not actually an 'avatar' at all of course, simply a virtual mannequin (which we quite like by the way) though USD 180K for five of them seems a little expensive to us!
av·a·tar/ˈavəˌtär/
Noun:

A manifestation of a deity in bodily form on earth.
An incarnation, embodiment, or manifestation of a person or idea: "he set himself up as a new avatar of Arab radicalism".