Gail Chiasson, North American Editor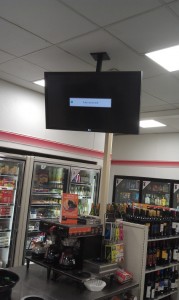 We had a tip from a reader on the West Coast that mentioned that each time he goes into a 7-Eleven, it's a 50-50 chance whether the digital screens will be on or off.
Our reader has noticed the same situation in both San Francisco and Los Angeles. Knowing that Harris is trying to sell off its Broadcast Division – allegedly including its digital signage unit, Ed, we can't help but wonder whether this is the best way (for DDN) to show the technology to potential buyers.
Our tipster mentioned that in the past there had also been various content orientation, size and scale issues with the screens at 7-Eleven as well.
We're wondering whether anyone else has noticed what's been happening – or not – these days at 7-Eleven?