Adrian J Cotterill, Editor-in-Chief
It's very hard to believe that anyone would go out and buy a Harris Digital Out-Of-Home Solution at this moment in time but that's just what we are led to believe with a media advisory from Singapore's leading media company, MediaCorp.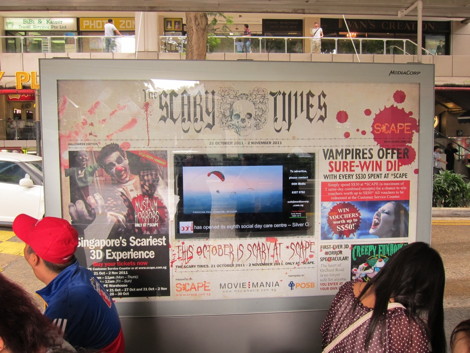 Mediacorp are implementing digital signage at bus stops in Singapore and Harris are providing an end-to-end InfoCaster Digital Out-Of-Home solution.
What makes the Singapore installation slightly interesting is that the content is delivered to the screens using data channels in the country's DVB-T digital television broadcasting system, i.e. over the air, without the need to install cables.
Thomas Ang, vice president, out of home media told us "When we won the contract from LTA in Singapore for bus–stop shelters, our business plan included digital signage along the busiest/high traffic sites."
He continued "We wanted to get the system up and running quickly, and Harris's ability to deliver a complete package — including the ability to transmit the content over the air, saves us the need to lay new data infrastructure. This means that we could deliver our modern and creative solutions to advertisers, and be able to inform and engage audiences as quickly as possible."
The first phase of the project has already been completed, covering bus stops in Singapore's Orchard Road and the central business district. A second phase will be completed shortly, adding more bus shelters and bringing a shopping centre into the system.
Mediacorp have got this particular Negroponte switch all wrong and should have taken a look at the troubles that have felled DDN and 7-Eleven (more on that later this week) and it should be obvious to all this is a 'broadcast' purchase NOT a digital signage or indeed, even a digital out of home purchase.
No doubt Mediacorp will be looking for a decent ad manager supplier in the next six months.