Adrian J Cotterill, Editor-in-Chief
Visitors to Meadowhall Shopping Centre are now able to replicate the moves of UK sweetheart, Cheryl Cole, in a unique new movement-based dance game delivered through a standard Clear Channel digital six sheet.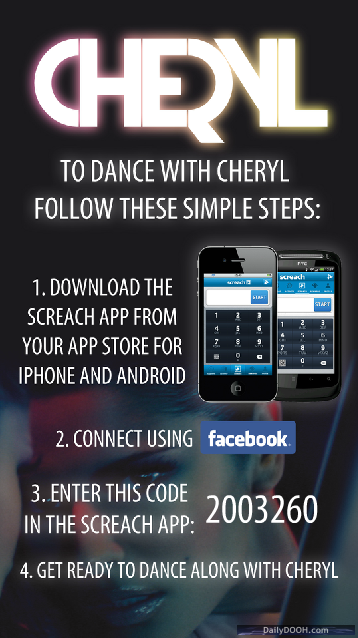 It's the usual 'media first' of course (yawn) but it is part of Polydor Records' promotion of Cheryl's new album 'A Million Lights'.
The campaign was devised and co-ordinated by TED@MediaCom working in partnership with Clear Channel UK and Screach (creators of the interactive Screach app).
To dance along with the video, fans can activate the screens by downloading the interactive Screach app onto their smart-phone.
Once downloaded the app registers all movements against Cheryl's moves in the video, awarding points to fans according to how closely they match Cheryl (these points of course can then be shared through Facebook and compared to friends' performances) and up to four players can play the game at any one time.
As well as scores being published to Facebook, fans can use their score to invite friends to join them at the shopping centre to compete in the game.
John Beardsworth, Associate Director, TED@MediaCom told us "With any Universal Music campaign our challenge is to use the content available to us to activate the most important asset, the fans. Cheryl is a great case in point, with nearly 5m Facebook friends and 2.5m Twitter followers we have an army of devoted fans ready to get involved. Through Clear Channel's digital six sheet unit and Screach's app, we are able to deliver a totally interactive experience where fans engage with the campaigns key asset, Cheryl's new video".
Paul Rawlings, CEO and co-Founder, Screach said "Mediacom and Universal are really using Screach to deliver something truly innovative to consumers. By converging Digital Signage, Mobile and Location, whilst using our motion control and multiplayer functionality to create engagement, they are really going that extra mile to capture the imagination of consumers."
The initiative will be in place for the next six weeks and fans will compete for the prize of a chance to see Cheryl Cole on tour.