Adrian J Cotterill, Editor-in-Chief
"Fed up of coming home from holiday to an empty fridge?" ask Tesco as they announce #VirtualTesco – their first ever virtual store in the departure lounge at London's Gatwick airport.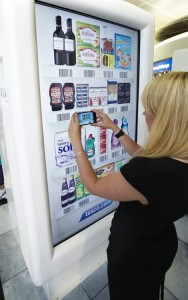 There are four interactive fridges in the virtual store pilot and six digital sites positioned around the departure lounge for passengers to use.
Sliding screens on each 'fridge' (or cupboard) can be scrolled by hand. Customers can browse the products by touching the screens and then scan product barcodes to add them to their basket.
There are around 80 products featured, carefully chosen to enable customers to make a full shop (milk, eggs, bread, cheese, pasta, sauce, chicken, cereal, fruit, vegetables etc).
Customers need to download the Tesco app from the App Store, Google Play or Android Market to scan products using their smartphone (oh and they need to register with Tesco.com).
Customers select 'groceries' from the app and then they select a home delivery slot and can book a date up to three weeks away.
Customers then select the 'scan' option and scan the barcode of the product they want on the virtual fridges (with the app they can also access thousands of other grocery products widening the range of products available to buy). The smartphone will bleep when the product is scanned.
They press 'add to basket' and the product will be saved to their online grocery basket.
Once they have finished scanning they can checkout and make payment.
This Gatwick virtual store builds on Tesco's launch of its first virtual store in South Korea last year. The Korean virtual store allowed commuters to shop in subways and at bus stops by pointing their mobile phones at billboards. Tesco is now trialling the concept for the first time in the UK, but this time using interactive digital displays.