Gail Chiasson, North American Editor
The $3.4-billion takeover of Astral Media by Bell Canada Enterprises, which still needs approval from the Canadian Radio-television and Telecommunications Commission and the Competition Bureau, is being fought tooth-and-nail by Cogeco Cable Inc., Eastlink and Quebecor Inc..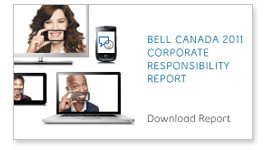 While these three competitors are all in the broadcast business, we are keeping our eye on the picture, because Astral also owns Astral Media Outdoor, which includes both static and digital properties, including spectacular billboards in Canada's three largest cities of Toronto, Montreal and Vancouver.
As part of their challenge, Cogeco, Eastlink and Quebecor ran full-page ads in daily newspapers during the past week. Signed by the presidents and/or CEOs, 'An Open letter to Canadian TV Viewers' explained the reasons why the deal would be bad, claiming that it would by far make BCE the dominant player in the country, and would end up controlling the most popular content and costing both consumers and advertisers higher rates, among other arguments. They have also launched a website urging Canadians to make their voices heard.
BCE Inc. is Canada's largest telecommunications company and the parent of Bell Canada and CTV. BCE raised both its dividend and its 2012 earnings forecast Wednesday after second-quarter profits easily beat analyst estimates. BCE reported a 31% increase in second-quarter net income attributable to common shareholders. And the Montreal-based company's profit rose to $773 million or $1 per share before adjustments.
BCE's proposed acquisition of Astral Media would create a media powerhouse that provides digital content to consumers online, on their personal computers and tablets, mobile devices like smartphones, as well as traditional TV screens. It would also give them a large selection of out-of-home media properties in Quebec, Ontario and British Columbia.
BCE also owns a large stake in Maple Leaf Sports and Entertainment – owner of Toronto's major league hockey, basketball and soccer teams, among other things.