Gail Chiasson, North American Editor
With the assistance of Fairfield, New jersey-based Pearl Media, JetBlue recently launched an interactive trivia game that simulated a Live Game Show complete with host.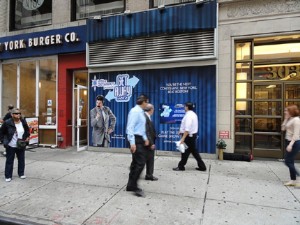 The interactive show, deployed in New York and Boston to play on the already existing rivalry between the cities, used the Interactive experience across three platforms: Interactive storefronts; Interactive kiosks; and Interactive bus shelters.
Contestants were tested on five trivia questions and their accumulated points were added to their respective city's point total. Also included was a QR code for a chance to register for The Live Game Show (a real one).
Last we saw, Boston was leading New York, but we don't which city won. Let us know if you do.