Gail Chiasson, North American Editor
The last time we talked to Jörg Cieslok, he had moved from Canada to Titan's Chicago office where he was executive vice-president and director of business development.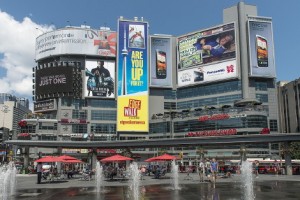 Cieslok quietly moved back to Canada last fall where he is now executive vice-president and general manager of Titan Canada, and where we discussed Titan's growing development in Canada, including that the company has now added the interior and exterior media of 10 Dundas Street East to its extensive, multimedia inventory portfolio.
"I learned a lot in Chicago, and am now putting it to use in Canada," says Cieslok, who was one of the first people doing out-of-the-ordinary things with out-of-home media in Canada when we met over 20 years ago, and obviously hasn't lost his thirst for learning.
Considered the 'Times Square of Canada', Yonge and Dundas is one of the country's busiest intersections with connections to the PATH, one of the world's largest underground shopping complexes. With 860,000 people working within view of the Square each day and more than 1,000 events per year (bringing in another one million patrons per year), 10 Dundas is one of the most highly influential and desirable advertising areas in Canada.
For the last 10 years, Titan has been capturing the attention of millions of passers-by with its innovative media executions atop the Hard Rock Restaurant. That particular location is home to one of the first Spectaculars that was installed as part of the revitalization of the Yonge and Dundas Square.
"Now the addition of 10 Dundas East makes Titan the largest advertising supplier in Yonge and Dundas Square," says Cieslok, adding that the outdoor location at the address had been mainly a Clear Channel property. "We're thrilled that we'll be able to offer advertisers the opportunity for complete and dynamic media coverage of the Square."
Specifically for the outdoor assets, Titan has added a 2,400 sq. ft. curved LED video screen with a 34-panel digital tile surround feature, a 28' x 105' contoured tri-vision, backlits and what is believed to be the largest single-faced vinyl wallscape in Canada.
Management of the 10 Dundas Square media also includes interior opportunities strategically placed for optimal viewership with various options to meet all media strategies. Each of the four levels consists of custom dominations including floor graphics, wall banners, pillars, backlit posters, branding signage and escalator media. Along with various social and mobile media these dominations offer the customer an integrated experience between all interior and exterior media available at the site.
"There are 20 LED and LCD screens on the four levels along with the static media," says Cieslok. "We'll divide them so that two advertisers will dominate, with two servers which allow that split."
Cieslok also told us that plans are underway for soon-to-be-announced growth by Titan in Montreal and Vancouver as well as Toronto. While he is not yet ready to announce exactly what is involved, he says that there will be a total of 20 faces via 14' x 48' new digital builds on highways in the various greater city areas.
If it weren't for the fact that Cieslok called them 'new builds', I couldn't help but wonder if the BCE/Astral proposed deal was resulting a sell-off of Astral's digital spectacular boards on highways in the same three cities. However, as 'new builds' it seems that BCE/Astral – depending if that sale is approved – might well mean Astral will be gaining some serious competition. It's something we'll definitely be watching.
Titan is a full service media company specializing in Out-of-Home advertising. Titan provides sales, marketing, creative, research and maintenance of advertising on bus, rail, bulletins, telephone kiosks, street banners and street furniture. It also has a new division, Titan Air, handling advertising in airports.