Gail Chiasson, North American Editor
With the aim of getting better known in Quebec, the Co-operators financial advisers will be making a big impact in their communities, not with digital screens, but with a car crash through the front windows of the advisers' offices.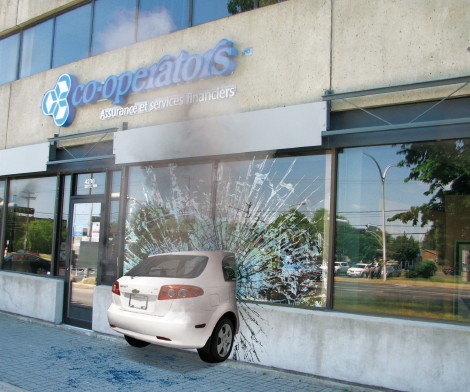 From August 22 to October 13, Co-operators sales offices in the province will look a little different than normal, with a car crashed through the front window. Local residents will be invited to take a guess as to how much a claim like this car crash would cost, and be entered into The Co-operators' It Happened Near You' contest to win prizes.
Residents can enter the contest in person in the office; through a contest ambassador in the community; by phoning the financial adviser's office or online.
Further, those who drop by the offices in person and get an insurance quote will receive a $10 gas card. The three randomly selected Grand Prize winners will receive $1,000 and 50 others will win $100 gas cards. The promotion was developed with Vibrant Marketing, Montreal.
We asked Leonard Sharman, senior advisor, media relations, at the Co-operators head office in Guelph about the company and if any its offices have digital screens yet.
Founded in 1945, The Co-operators is a Canadian-owned co-operative whose members include co-operatives and credit union centrals representing a variety of sectors and regions across the country, including five that are based in Quebec.
"No, the company's advisors mainly work independently so there's been no move as yet to use digital signage," says Sharman. "Through its advisers, The Co-operators offers a full suite of insurance and investment products, and its claim service is recognized as one of the very best in the industry. While the company has 600 offices, we only have 15 in Quebec, and this is our first effort to really build awareness in the province."
The Co-operators is committed to the highest standards of integrity and client service, and provides a Claims Guarantee, which outlines clients' rights to advice and service. Its Service Review Panels are made up of volunteer clients who have the power to overturn the company's decisions when there are disagreements; and its decisions are binding on The Co-operators, but not on its clients.
Co-operators financial advisers are well-known for the high level of personalized service they provide clients, and for their commitment to their local communities. Local residents will have an opportunity to see just how much of an impact The Co-operators can make on their financial well-being – with or without a car smashing through their front window.
The Co-operators Group Limited is a Canadian-owned co-operative with more than $36 billion in assets under administration. Through its group of companies it offers home, auto, life, group, travel, commercial and farm insurance, as well as investment products. The Co-operators is well known for its community involvement and its commitment to sustainability. The Co-operators is listed among the 50 Best Employers in Canada and Corporate Knights' Best 50 Corporate Citizens in Canada. As a proud member and supporter of the co-operative sector, The Co-operators is pleased to celebrate 2012: The International Year of Co-operatives.