Gail Chiasson, North American Editor
Astral Media, a division of Astral Inc., has partnered with Ad-Dispatch to launch its first application of augmented reality with outdoor advertisers.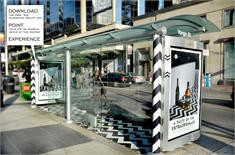 Canadian advertisers now have a unique way to interact with consumers who download IRIS AR – the first augmented reality application in Canada, developed exclusively for outdoor advertising.
"The application IRIS AR is another great way to connect people in the physical world to the digital world and Astral is proud to sponsor the first universal application of augmented reality," says Debbie Drutz, director, media markets and innovation, Astral. "This gives all our advertisers and suppliers the opportunity to interact with their customers in a meaningful way. In launching this application, we invite consumers to experience augmented reality in one place and with a single application to download for all Astral products across Canada.'
Launched August 20, Astral's application in transit shelters invites the public to explore augmented reality with which Drambuie promotes its extraordinary taste, 'A Taste of the Extraordinary'. Transit shelters used as part of the campaign are strategically located in the trendiest neighborhoods in Toronto, including Queen West and Dundas Square.
Consumers who are of legal age to consume alcohol are also invited to keep the application on their device because it will offer more experiences over time.
Astral Media Outdoor offers more than 9,500 advertising faces strategically located in key markets in Quebec, Ontario and British Columbia.
Founded in 1961, Astral is a leading media company in Canada. It operates several chains of specialty and pay television, radio, advertising companies and media properties among the most popular in the country. The company's recently announced purchase by BCE is currently the subject of controversy in Canada's media universe.