Adrian J Cotterill, Editor-in-Chief
The folks over at MOOH Group Ltd. keep innovating and their latest foray into the digital out of home world is an interesting partnership with NSM Music (a UK Manufacturer of Audio and Video Jukeboxes).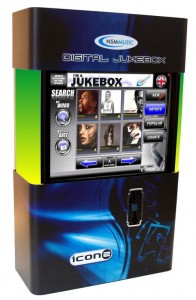 With almost 6,000 units across the UK and Ireland and screen sizes ranging from 19″ in landscape and 30″ in portrait the jukeboxes consist of touch screens and can be used for fully interactive content; they can play videos (all units not surprising have local inbuilt audio), display product inventories for scrolling, and have data capture facilities as well.
The screens allegedly convert from being a jukebox control panel to an advert within 30 seconds of a unit becoming dormant (Ad banners are also displayed within the control panel, giving the users the option of clicking through to an advert in between selecting their music).
The UK pub sector is a very crowded one when it comes to selling media (and not just digital) and although this is a huge estate it will live or die on how well the MOOH Group folks can sell advertising to the traditional media agencies.