Gail Chiasson, North American Editor
The amount of entertainment content accessed on mobile devices increased 82% from December, 2010, to December, 2011.
That's one of numerous facts and figures in the latest Millennial Media / comScore Study which goes in great depth on the entertainment sector.
Titled Mobile Intel Series: Entertainment, it is designed to help Entertainment marketers – including those in television, films, games, and home entertainment – plan their mobile advertising strategies. The study provides insight into: who mobile entertainment consumers are and how they use their mobile devices; what leading entertainment brands are doing in mobile today; and how entertainment brands can use mobile to reach and engage consumers.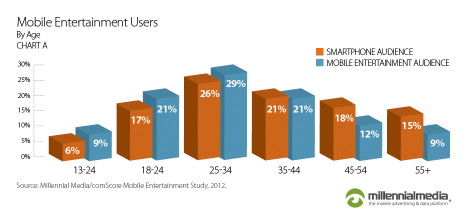 The mobile entertainment audience is made up of consumers who frequently engage with entertainment content and ads on their mobile devices. Consumers are using mobile to access movie information, view trailers, and buy tickets; to check TV show times and engage with mobile social media sites during shows; and to pre-order and buy DVDs, video games, and digital downloads.
The extremely in-depth report covers both what entertainment advertisers are doing, as well as what makes the audience that consumes mobile entertainment content unique.
Among points noted in the study:
71% of all entertainment campaigns give consumers the option to watch a video as a post-click action. This was significantly higher than the overall mobile average of 24%.
27% of entertainment campaigns used mCommerce, which was more than double the average for all advertisers.
Hispanic consumers are 39% more likely to view mobile entertainment content than the overall smartphone audience; African-American consumers are 10% more likely.
Entertainment was the third leading mobile advertising vertical on the Millennial Media platform, ranked by spend. From 2010 to 2011, ad spend in the industry grew 133%.
Campaigns promoting theatrical releases made up 43% of all entertainment campaigns on the Millennial Media platform. Campaigns promoting TV shows and DVD releases were the second and third most popular entertainment campaigns.
55% of all entertainment campaigns had the goal of promoting a launch or release (i.e. film debuts, game releases, etc.).
The top audiences entertainment advertisers targeted were 'Movie Buffs', 'Entertainment Fans' and 'Music Fans'.
Demographics vary for groups accessing different types of entertainment content. While the makeup of consumers accessing movie information is relatively close to the overall entertainment audience, consumers accessing 'Kids & Family Entertainment' content skew more heavily female and slightly older, with a large concentration in the 25-34 and 35-44 age groups. In the U.K., Asian consumers are three times more likely to access Kids & Family Entertainment content than the overall smartphone audience.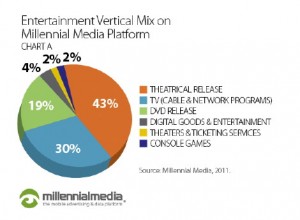 The top campaign goal for mobile
entertainment advertisers in 2011 was Product Launch / Release. Studios driving theatrical releases led the way with robust
mobile campaigns for every new film to hit the market. Home Entertainment companies and
major game developers promoted DVD and game releases, respectively, to drive immediate results – through pre-orders, online/mobile orders, and in-store foot traffic/sales – for their new releases.
Sustained In-Market Presence (16%) and Brand Awareness (9%) were the second and third most popular campaign goals for entertainment brands.
The study found that Entertainment campaigns must run across all mobile platforms to reach fans wherever they are. Entertainment fans access content across a variety of devices and operating and effective mobile advertisers take advantage of this fact by running cross-platform ad campaigns – across multiple device types and operating systems – to connect their brands with audiences, not just devices. Brands who run cross-platform campaigns are able to reach consumers at great scale, regardless of whether their target audience uses a smartphone, tablet, mobile-web-enabled feature phone, connected gaming device, e-reader, or any one specific carrier.
Nearly one-third (31%) of entertainment campaigns that ran with Millennial Media in 2011 used some form of content-based audience targeting. By targeting consumers based on the types of mobile content they consume, campaigns using this type of targeting can help advertisers reach fans reading entertainment news, moms visiting parenting apps and sites, music fans browsing music news, reviews, listening to streaming music, and more, on their mobile devices.
The report ends with a suggested Top 10 Action Items for Entertainment Brands.