Gail Chiasson, North American Editor
AccentHealthTV, one of America's largest waiting room television networks – airing to 173 million annual viewers in over 12,000 doctor's waiting rooms nationally across the US – has, in partnership with Drug Store News, released results from a survey detailing the patient decision-making process when choosing a pharmacy – and what might cause them to switch.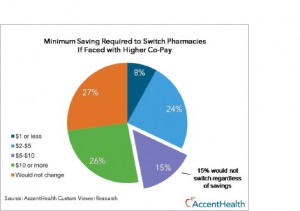 AccentHealth survey panelists visit the pharmacy 65% more often than the general population, so their insights are a valuable tool for pharmacy retailers looking to reach their most significant consumer, the patient. The company partnered with Drug Store News on a series of reports to get this info to pharmacy retailers.
"Convenience is king when choosing a pharmacy, but pricing consideration is a key secondary driver – so much so that 85% of patients surveyed report they would switch from their preferred pharmacy for some degree of cost savings at another retailer if their co-pay were to increase," says Natalie Hill, vice-president market research at AccentHealth. (Co-pay is the amount charged to the consumer at the pharmacy level that is not covered by their personal or government health plan.)
"AccentHealth panelists fill 63% more prescriptions annually than the average consumer, reinforcing why this audience is so pertinent to the pharmacy industry," says Hill.
"People have been watching AccentHealth's health education programming in their doctor's office since 1995," says Andrew Schulman, vice-president marketing. "Our patient panel is engaged with AccentHealth, allowing us to understand how pharmacies are selected by the key pharmacy constituent, the patient."
The first 'Patient Views' survey was conducted online July 19 – August 1, 2012, with respondents from 40 states on AccentHealth's participating panel of more than 3,000 patients nationally. AccentHealth viewers may be described as active pharmacy users, visiting pharmacies more frequently and filling more prescriptions than the average consumer
Some of the points in AccentHealth's survey include:
One-third of patients use one pharmacy to fill Rxs (including mail order).
Nine out of 10 patients have a preferred pharmacy.
62% of patients report that pharmacists play an important role in their pharmacy selection and nearly all report their pharmacist is accessible to them. (However, pharmacists are, in fact, under-used as a resource with only 28% of patients often communicating with their pharmacist.)
Generally, insurance providers afford patients the flexibility to select their pharmacy, and even those who select from a limited network are satisfied with their options.
Despite high levels of patient satisfaction with their pharmacy, consumers report they would switch pharmacies 'if the price is right', with 58% agreeing to switch for a saving of $10 or less if faced with a higher co-pay as a result of insurance changes.
Since AccentHealth viewers frequently leave their doctor's office with a prescription, the survey results are particularly relevant to retailers. There is also marketing relevance due to the national discussion on the direction of healthcare, including that more health services such as vaccinations are being offered outside of Doctor's offices.