Adrian J Cotterill, Editor-in-Chief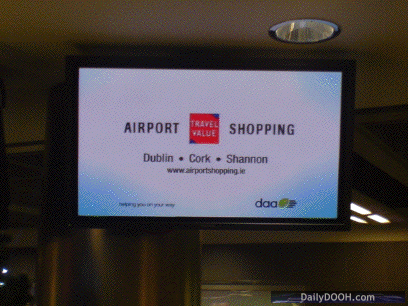 The dozen or so pictures of the screens that we took at Dublin Airport on our most recent travels could not do the network we saw justice so you will just (at the moment) have to accept the one above.
The network is owned and has been managed by i-Channel for the last 12 months or so (i-Channel we believe bought the network off of the previous incumbent.
We really liked what we saw in terms of content – a good mix of brand advertising, local advertising, news and general information.
In the 15 minutes we were waiting for our bags in the baggage hall we saw content that reflected…
Duty Free Airport Shopping
Advertisement for local Arlington Hotel
i-Channel's own brand and ident
National Brand advertisement for Meteor (Irish Mobile Phone Carrier)
Advertisement for local nightclubs
Advertisement from the Passport Office
Showbiz news
Advertisement for Ulsterbus
Tourism advert for 'Visit Hungary'
'Welcome to Dublin Airport' Messages
All in all a really great mix of content. They have obviously been successful in getting major brands interested (Meteor is the Irish equivalent of a T-Mobile, Orange or Vodafone) and have intertwined this with good local and some great tourism advertising as well.
Media buyers and planners should take note – Dublin airport gets a lot of visitors and would be well worth inclusion in forthcoming campaigns in 2008.