Adrian J Cotterill, Editor-in-Chief
For the past three years we struggled to get Scala to even attend the Munich Digital Signage Conference and help make it a solid part of the European digital signage industry calendar (last year, Scala's own European partner event was the same week and the year before Scala's then head Europe honcho Oscar Elizaga saw fit to be on vacation).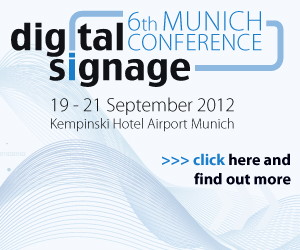 Now that the event is a much smaller, German only affair we see that Scala CEO Tom Nix has had his name put down to speak.
To be fair I suppose Germany is an important region for them and we see that well respected Scala VAR Seen Media are also a content partner.
It still galls us that OVAB Europe allow their name to be associated with this event though – when we spoke to Tom he told us "perhaps I will see you at the OVAB event in Munich in September" – a common misapprehension as the only real relationship between OVAB Europe and the day long conference is sandwiched in between two OVAB days either side – another great example of the Europa Twins yet again abusing their position on the OVAB Europe board.