Adrian J Cotterill, Editor-in-Chief
In one of the more appealing pieces of direct mail we have received in the last few years, Christie have reminded the media industry as to the correct usage of their brand.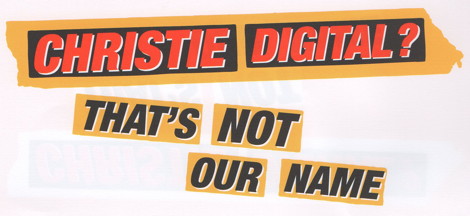 Indeed, in the past we have been bad, referring to them incorrectly as 'Christie Digital' and we've seen others use 'Christie Digital Systems' which is also wrong!
The correct name is of course CHRISTIE and the clever marketing folks reinforced this message with not only one of the cutest USB memory sticks we've seen (which no doubt we will be fighting over in the office) but a digital copy of That's Not My Name by The Ting Tings (all corrected licensed by Sony Music Germany of course).
Whilst the digital download was the original Christie Digital, Christie Digital Systems Christie supplied an alternative lyric song sheet – obviously for those much needed office sing-a-longs.
Watch out perhaps for the Drunk Unkles rendition at #InfoComm13 in Orlando next June?