Russ Curry, Ministry of New Media
DOOH Insights: 2008 To 2012 has already proven to be a remarkably popular (new) publication even before going to print!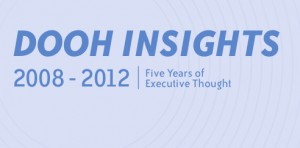 Many thanks must go to NEO Media Group CEO & President Christian Vaglio-Giors for volunteering a neatly phrased foreword which sums up industry developments of the last five years extremely succinctly.
At the final count, we had a total of 20 advertisers, including Title Sponsor VUKUNET who also contribute an introduction from Dirk Huelserman, and Ayuda Media Systems who splashed out – no pun intended I am sure, Ed on the prestigious position opposite the table of contents.
The full list of advertisers is:
3M
Access Sports Media
Amscreen
AOpen
Ayuda Media Systems
Digital Signage Expo
enVu
GoGo Cast
GSTV
Neo Media Group
MOOH Group
Nomadix
Ocean Outdoor
PRN
Quividi
Scala
Screenfeed
Verifone Media
VUKUNET
Wonderworks 3D
Ad artwork is all turning up now, and everything goes off to the printers at the end of next week so that we can hope to see the first copies rolling of the presses during the first week of October – i.e. just in time for first distribution in New York at the DPAA Digital Media Summit and then the #DSInvestor Conference.