Monster Media has partnered with CBS Outdoor to launch a digital signage campaign promoting the season two premiere of North America's Food Network's series, 'Restaurant Stakeout'.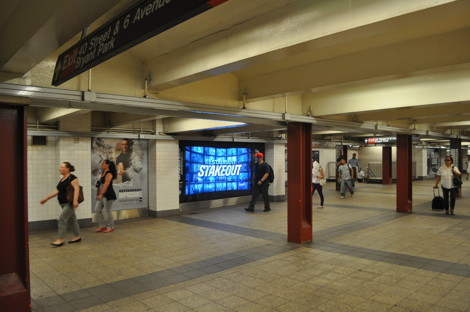 The expansive digital display in Manhattan's Bryant Park Station features nine LCD screens that capture the attention of commuters with hidden camera footage from the series.
With a multitude of installations across the country, these displays employ interactive capabilities including multi-touch interactivity, gesture-based activation, photo/video capture, mobile interactivity and data capture – Monster Media's back-end analytics system records every interaction to provide advertisers with key data to evaluate the success of campaigns.
The initiative for Food Network marks the first time Bryant Park station (shown above) has utilised digital displays to reach on-the-go consumers. The Restaurant Stakeout digital wall, located within one of New York's busiest transit stations, features a combination of video and sound to attract the attention of commuters in the midst of the hustle and bustle. The digital ad campaign, created in partnership with Media Storm and Wee Beastie, gives passersby a behind the scenes sneak peek of the upcoming season by simultaneously playing surveillance footage on multiple video tiles. These videos rotate with the series trailer, as it takes over the massive digital display screens with invitation to tune in on Wednesdays.
Chris Beauchamp, CEO at Monster Media told us "The high visibility of ads and frequency of ridership make transit stations an ideal medium for advertisers to expose commuters to their messages. Coupled with the versatility and variety of interactive technologies available with the digital walls, commuters are able to engage with advertising like never before."
Restaurant Stakeout follows Willie Degel, a restaurateur known for running a tight ship at his restaurants, as he brings his practices to other establishments in hopes of saving their business.
Willie travels to restaurants across the country and equips them with hidden cameras to keep a close eye on the staff and floor. He then reviews and critiques the surveillance footage with the restaurant owner to identify and correct the underlying problems within their business.
The new season of Restaurant Stakeout can be viewed on Food Network Wednesdays at 10pm/9c.