Adrian J Cotterill, Editor-in-Chief
Intel are trying to put together a Digital Signage Workshop in Munich in early October amid talk of the 'Formation of Industry Wide Group' but don't seem to be getting very many takers for the workshop from what we hear.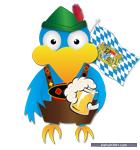 In an email to Intel Customers, we quote "Our goal is to bring together leading players from the digital signage industry and facilitate dialogue and collaboration to drive faster adoption of digital signage".
If this sounds a bit like the clusterf*** that was the event back on 15th May in London (see our post 'Intel Invites Select Group To Event (Doesn't Tell Anyone)' then you might well be right†.
The agenda
09:00 Registration & refreshments
09:30 Introduction, welcome & Intel DS strategy update
11:00 Coffee
11:30 Success Stories and Case Studies
13:00 Lunch
14:00 Working session – Formation of Industry Wide Group
17:00 Next steps
19:00 Dinner and Networking
The event is taking place on Tuesday 2nd October at the Holiday Inn Muenchen-Unterhaching, Inselkammerstr 7-9, D82008, Munich, Germany which is approximately one hour from Munich's Franz-Josef-Strauss airport or 20 minutes from the city centre.
Note that Oktoberfest is on during that time so hotel rooms will be expensive and in short supply and airfares may also get hiked up as well.
† We are happy to be proved wrong if they have already reached out to existing industry associations like OVAB Europe (and we don't just mean those self-serving Europa Twins), have invited all the main players (not just THEIR customers) and are happy to talk OpenSplash