An interesting interactive digital out of home campaign launched in Berlin this week to mark the arrival of the new Volkswagen Golf VII. Created by blowUP media, the campaign allows passers-by to get involved by answering questions and submitting kissing photos to the big screen…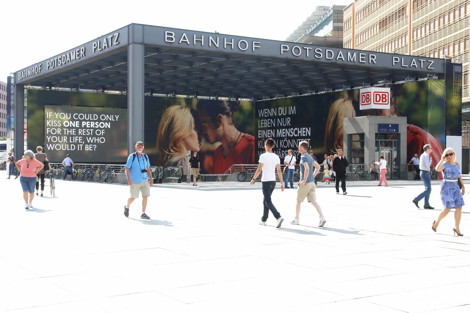 The campaign at the Potsdamer Platz in Berlin introduces VW's most anticipated new car of the year using a space of approximately 1,000m² filled with interactive screens and runs from September 10th to October 4th.
The bespoke outdoor installation occupies the entire south entrance of the S-bahn train station which has been wrapped with motifs of people kissing and poses several questions such as "If you could only kiss ONE PERSON in your life, who would it be?"
A large format LED screen (40m² +) is integrated into the inside façade and on the outside, eight 46" touchscreens with built-in cameras allow passers-by to interact and make kissing photos which are then immediately displayed on the large LED screen.