JCDecaux has appointed zappit as its preferred partner for the development of NFC-enabled services for JCDecaux and JCDecaux Airport in the UK.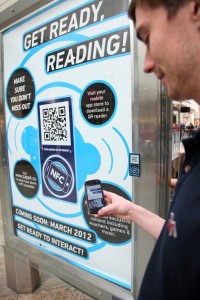 zappit provides QR, NFC and mobile payment technology that helps brands engage with consumers using their smartphones.
The move follows the success of the 'Test the Near Future' trial in March 2012 in Reading, in the first large-scale deployment of NFC-enabled outdoor advertising sites. The partnership heralds the launch of the first NFC outdoor advertising campaigns across JCDecaux's roadside, rail and airport businesses.
David McEvoy, UK Marketing Director of JCDecaux said, "We worked very closely with zappit during the 'Test the Near Future' trial and this new partnership will enable us to develop our NFC offer for our clients in the future. 'Test the Near Future' showed that the public were overwhelmingly positive about the NFC-enabled Outdoor experience, citing the ease of use of NFC".
Mark Fraser, CEO, zappit told us "The results of the 'Test the Near Future' trial clearly show that consumers are ready for NFC and that will only increase as manufacturers are now including NFC as standard in their handsets. The potential of NFC for instant brand engagement with a consumer is a powerful one. By 2013 NFC will be the dominant mobile marketing technology, delivering instant value to consumers such as coupons, loyalty and products and providing brands with richer data, anytime anywhere mobile payments and the ability to make more relevant and personalised offers."
In March 2012, JCDecaux, Kinetic and Zappit launched the trial of NFC-enabled 6-sheets in Reading. Working with 13 clients from GroupM agencies, campaigns ran across all poster sites in Reading over a 4-week period. Over 3000 people scanned the poster sites, the equivalent of a million people nationwide.
About Zappit

zappit is a technology firm that provides a platform for brands, agencies and media owners to maximise their engagement with new and existing customers using NFC, QR and mobile payment technology.