Adrian J Cotterill, Editor-in-Chief
Posterscope, working in conjunction with Mindshare, JWT and Pragmatica, have delivered an interesting NFC campaign on static 6-Sheets with JCDecaux, Clear Channel and Primesight in the UK.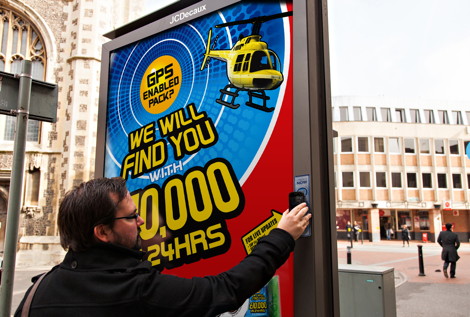 Nestlé have seeded the UK market with six chocolate Kit Kat bars fitted with a GPS tracker and with a slightly Orwellian slant, the promotion, dubbed 'We Will Find You' is dependent on the consumers who discover the winning bars activating the GPS device at which point a team will be dispatched to deliver a £10,000 prize directly to the winner (picture here Robert De Niro as heating engineer Archibald 'Harry' Tuttle arriving at the winner's abode)
Over 3,000 six sheets have been fitted with NFC/QR Touchpoints that will direct users to live competition updates and the opportunity to enter a secondary competition with an on-pack code via Facebook.
Smartphone interactions are designed to drive users to a mobile landing page which hosts updates on the number of GPS bars left, thus allowing consumers to interact with the promotion via their entire OOH campaign.