The Finish Line Inc. [1] is enhancing the consumer buying experience with the deployment of VeriFone Systems [2]'s latest mobile checkout and multimedia-driven countertop payment solutions.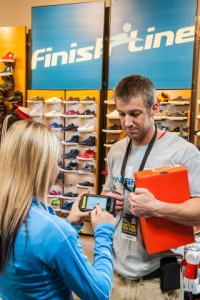 [3]Following a successful trial, the premium retailer of athletic shoes, apparel and accessories is in the process of deploying VeriFone systems chain-wide with the goal of having all 638 locations equipped by mid-November when the holiday buying season begins.
Finish Line is deploying 1,600 of the countertop multimedia MX 915 systems and 3,200 PAYware Mobile Enterprise secure mobile card acceptance devices for the iPod touch.
"Using VeriFone's mobile card acceptance solution for the iPod touch creates the ability to line bust at the cash register and assist with making a purchase," says Terry Ledbetter, Finish Line senior vice-president and chief information officer. "Our mobile payment devices enable our associates to fully service our customers on the sales floor and avoid checkout lines. We are also able to line bust during busy times to further reduce customer frustration."
"Finish Line's vision for a new retail experience and insight into changing consumer needs are at the forefront of the coming transformation of the point of sale," says Jennifer Miles, VeriFone executive vice- president, North America. "VeriFone helps to enable this transformation by managing complex mobile retail applications, while making transactions simple for the consumer, and providing a common interface across the enterprise."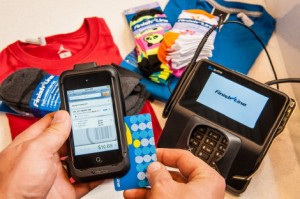 [4]With years of retail payment experience and some of the most innovative solutions on the market, VeriFone provides retailers with everything from key mobile payment systems to complete suites of next-generation mobile retail software, all of which integrates with existing payment infrastructure.
The VeriFone MX 915 is the slim, space-saving member of the MX 900 line, which securely delivers powerful multimedia, content and payments to transform the traditional point-of-sale into a dynamic and intelligent point of engagement between retailers and consumers.
The PAYware Mobile Enterprise card encryption reader, with integrated 2-D bar code scanner, works with all forms of electronic payment including magnetic stripe, chip and PIN, and contactless/NFC-enabled cards and phones. The mobile payment solution helps reduce long lines at the register by arming the store associate with a way to accept payments on the floor at the point of interaction.