Adrian J Cotterill, Editor-in-Chief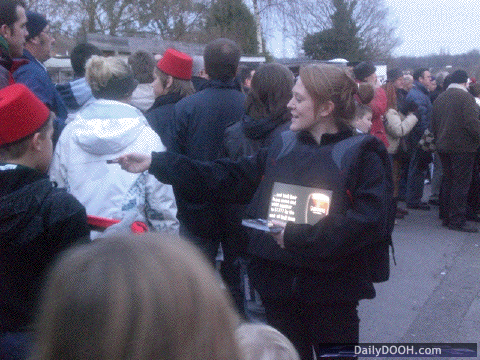 Further to our previous post, thanks to friends of ours, Max and Guy, two local Rugby fans we have a couple of pictures of the Adwalker Guinness campaign.
It is being run, we understand from the girls wearing the digital Adwalker units, at all major Rugby grounds (we heard a report from a Saturday game but had no picture). The campaign is based around a competition where fans can win a pint of Guinness (and other Guinness goodies) for correctly SMS'ing their prediction of the last try scorer of the game. Fans need to text their answers in by halftime.
The Adwalkers's brief therefore is similar to what they have been doing at Premiership football grounds in the UK – work the crowds, promote the brand, encourage fans to interact, engage and enter the competition.
I am beginning to like what Adwalker are doing with sport at the weekend more and more. Again, media planners and buyers should take note.