For the second year, Digital Signage Expo and DailyDOOH have joined in creating an unprecedented half-day international conference with the goal of providing technology providers, systems integrators, network operators, advertising agency executives and others an overview of the opportunities, challenges and achievements in the use of digital signage and digital out-of-home networks around the world.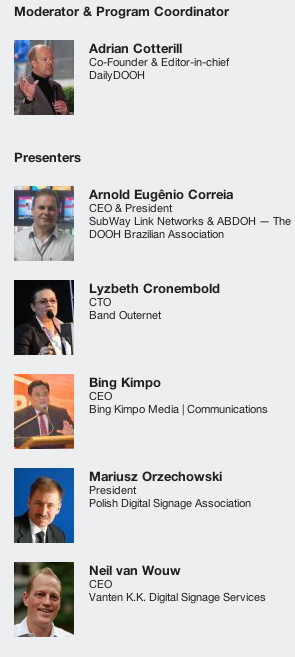 [1]The 2013 event covers Eastern Europe, Asia/Pacific and Latin America (with speakers representing Poland, Japan, Australia, the Philippines and Brazil), will provide an ideal opportunity for anyone looking to network and do business outside their current region.
Schedule:
8:00am Registration
9:00am Welcome
9:30am The Key Digital Signage Players in Japan and Their Thoughts on the Market
10:15am Obstacles and Opportunities: An Overview of Emerging Asian DOOH Markets
10:45am Opportunity and Risk — Digital Signage Market in Poland and Other Central East Europe Countries
11:30am Brazil and Latin America DOOH: Opportunities to Grow UP!!!
12:00pm ONLINE or REAL TIME — The Challenges of Managing Over 20,000 Screens in Different Environments and With Different Content
Prospective attendees can register here [1]
Celebrating its 10th anniversary in 2013, DSE has grown to attract attendees from not only all 50 states but also from more than 60 foreign countries. Over the years, DSE has increasingly become a meeting place for the international community to see and display new technology and share the knowledge necessary for business success.