Gail Chiasson, North American Editor
For the third consecutive year, AIDS Walk Los Angeles is promoting its 28th annual fundraising walk, one of the largest non-profit events in Los Angeles, on Eye's digital display units for the third consecutive year.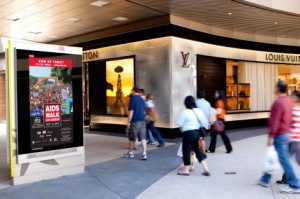 The campaign is running at Los Cerritos Center, The Oaks, Santa Monica Place and Westside Pavilion malls leading up to the event on Oct.14/12.
The 10K walk, beginning at the end of West Hollywood, will benefit the services provided by AIDS Project Los Angeles (APLA) and other AIDS service organizations throughout the Los Angeles County. More than 30,000 participants gather together annually to fight HIV/AIDS and raise millions to support prevention, treatment and advocacy programs.
"We are thrilled to partner with Eye for the third year," says Shona Borevitz, event director of AIDS Walk Los Angeles. "Seven new people become HIV-positive every day in Los Angeles County and we continue to work to change this. Eye's donation of digital displays in local LA shopping centers helps raise awareness and much needed funds for the fight against HIV/AIDS. Eye's support is an outstanding example of community leadership, corporate responsibility and human kindness."
The digital ads, currently running through the event date, promote awareness for the event and encourage the community to participate. Eye has shown its support for AIDS Walk Los Angeles since 2010.