This month, shoppers will be seeing pink in 205 malls across the U.S. as, for the third year in a row, the Adspace Digital Mall Network [1] screens support America's fight against breast cancer.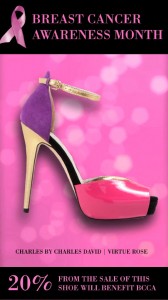 [2]Interspersed with other editorial and advertising on the approximately 14 screens per mall, we were interested to learn, the 15-second spots that show pink products that raise awareness of the cause are considered 'editorial' by Adspace, meaning that the owners of the brands do not pay for their appearance.
Those customized spots, all featuring pink and black with the iconic pink ribbon symbol for Breast Cancer Awareness, include these participating brands:
Ann Taylor featuring the Evelyn Lauder Legacy Collection of Jewelry;
Evelyn Lauder and Elizabeth Hurley Dream Lip Collection;
Bobbi Brown bronzing powder and blender brush;
Limited Edition Clinique Chubby Stick Moisturizing Lip Colour Balm and a pink cosmetic carrying pouch
Coach Poppy Lipgloss set;
Lab Series Skincare for Men Daily Moisture Defense Lotion;
La Mer The Hand Treatment;
Origins Make a Difference & Peace of Mind Duo (hand treatment and stress-free oil)
Smashbox – Be Legendary lipstick in Inspiration;
Charles David shoes;
Aerie special edition pink bra.
Shoppers have come to understand that proceeds from their purchases will go to a variety of meaningful breast cancer causes.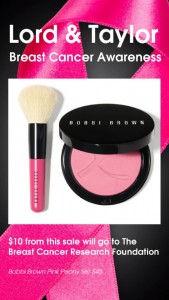 [3]"People actually look out for pink ribbons during this time of year, and we're thrilled to include more than one dozen new 'pink' products on our screens," says Warren Christopher, vice-president marketing and content development for Adspace Digital Mall Networks. "Shoppers love checking out the latest 'pink' products and feel good about purchasing products that give back to causes they care about. It's a win-win for all."
"The fashion and cosmetic industry really get behind this because they cater to women and want to give something back," says Bill Ketcham, Adspace executive vice-president, chief marketing officer. for "We feel the same as the larger percentage (about 60%) of our viewers are women."
Not all the brands participating in the pink initiative are advertisers on Adspace.
"Some of them don't get to work with as advertisers, but this might lead them to become advertisers when they see how good they look and the results that come from appearing on our screens," says Christopher. Apparently that has happened in the past with several brands, including, among them, H&M.