This week at the Digital Signage Investor Conference (#DSInvestor), our fearless leader here at DailyDOOH, Adrian Cotterill gave an excellent presentation that exposed the '5 Undeniable Truths About the Digital Out Of Home Business'.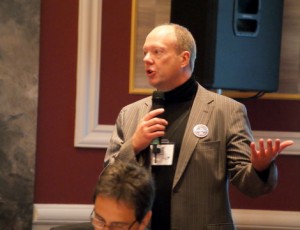 Of all the presenters of the day I really enjoyed this presentation the most, not because as the editor-in-chief of this publication Mr. Cotterill will probably be reading this, but mostly because it addressed real issues that the DOOH industry faces, presented in a honest and straight forward manner.
Instead of keeping you in suspense, like Mr. Cotterill did during the presentation, I am going to give you the list now straight away and discuss each one in more detail below.
1. How many software vendors do we need?
2. Big Company Intoxication
3. The Cost of Content
4. Digital OOH Revenue Eats Traditional OOH Revenue
5. Nervous Brands
Standing on the Shoulders of Giants: "How Many Software Vendors Do We Need"
This is a very valid question because as we all know that there is no shortage of companies that provide digital signage software and everywhere you turn there is a new company popping up that offers DOOH software which, as Mr. Cotterill pointed out, leads to a lack of innovation. He also makes a great argument here by saying that instead of just developing new software, digital signage entrepreneurs should focus on creating solutions that address an immediate need of the DOOH industry by using insights gained from the current trends.
David vs. Goliath: "Big Company Intoxication"
I felt that this should have been #1 on the list, however in this discourse Adrian addressed how big companies with endless resources do not have the focus that their money should afford them. I agree with him. Besides the obvious examples of Intel & Cisco, Mr. Cotterill points out how if display manufacturers understood software that Samsung would be as big as Apple. Since I normally always bet on the underdog, I liked the fact that Mr. Cotterill actually picks on the big guys in the DOOH industry like they are bullies or the giant gorilla or elephant in the room.
How Much Is One of those Going to Cost Me?: "The Cost Of Content"
Here Mr. Cotterill points out that the cost to create content for digital signage is 4 to 5 times higher that it actually should be and sometimes it can be 6 to 10 times higher than it should be. Although, Mr. Cotterill points out the main reason for this problem by saying 'two words'. Agencies. Culprits.
Even though we may need a sort of disintermediation of the agencies to help lower the costs of content however, I believe that the methods used to create content more efficiently should be explored.
Out With the OOH, In With DOOH: "Digital Eats Traditional OOH Revenue"
In one of the first presentations of the day, a presenter shared a figure that forecast DOOH Revenues will reach USD 5 billion by 2015 and that 30% of all OOH media spends are digital. It only seems normal that digital place based media #dpbmedia will begin to eat up the budgets of out of home and if you ask most brands or agency folks they will most likely tell you that DOOH is a part of the OOH Media spend, but they just call it Digital.
Stop Hiding From Your Boss Under The Desk!: "Nervous Brands"
Being a thought leader in the ad industry is not easy. Have you ever tried to introduce new and exciting ideas or technologies to a brand or an agency?
99% of the time you are going to get shot down because of a lack of education and understanding of the concepts by the target you are pitching. I know this all too well. I agree with Mr. Cotterill 100% on this because I have seen so many brands and agencies lose out on an opportunity because they were afraid to try something new, because scared executives were too busy hiding under their desks from their bosses hoping that they wouldn't have to explain what this new concept was about.
 Bravo!