Adrian J Cotterill, Editor-in-Chief
Interesting research from Preqin (reported first by peHUB, the Interactive Forum for the Private Equity Community) who assembled a list of the most consistent performers in venture (capital) based on IRR, fund year, strategy and geography.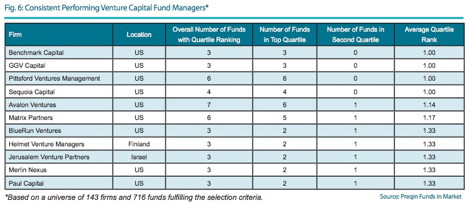 Only active managers that have three or more funds with a similar strategy are included and still formative 2010, 2011 and 2012 funds are not included.
Note the inclusion of Jerusalem Venture Partners.