Russ Curry, Ministry of New Media
No self-respecting awards ceremony would surely be complete without a raffle – and that's exactly what the good folks at NEC Display Solutions and Wonderworks 3D thought when they approached us with suggestions of some stunning prizes.
If you thought that we could not follow up Tuesday's look at the rather superb 29″ EA294 monitor, given to us courtesy of NEC Display Solutions, with something equally amazing then you will need to think again…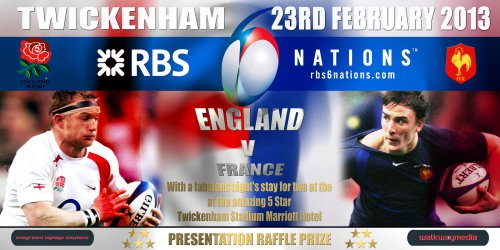 Integrated Signage Solutions and Walkway Media are offering two of the best seats at Twickenham for the England game against France on February 23rd in the RBS 6 Nations Tournament – a game which might be the championship decider !
And on top of that, they have thrown in a complimentary stay for two at the luxury Marriott Hotel overlooking the stadium – including a sumptuous match day breakfast to set you up for the exciting day ahead. A superb weekend sporting spectacular where romance and sport do mix! But, of course, to win this fabulous prize you have to actually be at The DailyDOOH Gala Awards on Thursday evening!
David Da Costa CEO said "Integrated Signage Solutions and Walkway Media are delighted to support the DailyDOOH's prestigious 2012 Annual Gala Awards by offering a sporting raffle prize which we hope will help kick off what is guaranteed to be an already fun packed evening."
Guests will notice that their tickets are individually numbered and should hang on to them preciously during the course of the evening, since the numbers that are being drawn out of the hat (or maybe champagne bucket ?) will refer to their ticket number…!