The Digital Place-based Advertising Association (DPAA) announced mid week that Vector Media [1] has joined the association as its newest member.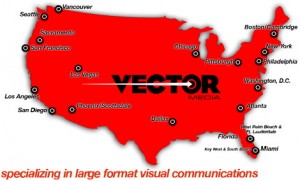 [1]Vector Media, which offers diverse advertising opportunities to reach on-the-go consumers, is adding digital-out-of-home networks to its traditional offerings. These digital networks are in the travel and lifestyle space and offer unique environments to capture consumers.
Susan Danaher, president & CEO, DPAA, told us "Vector Media is a rapidly growing company that brings a broad-based perspective to our organization. We look forward to their active participation in our many initiatives."
Jay Goldstein, manager, digital-out-of-home at Vector Media, was quoted as saying "We are happy to support Sue and her team at DPAA and are eager to make the most out of our membership as we continue to grow our digital network footprint."
Founded in 1998, Vector Media is an out-of-home media company, specializing in large-format advertising and creating interactive brand experiences. The company's current inventory of over 10,000 out-of-home faces includes bulletins, wallscapes, telephone kiosks and over 3,500 transit advertising faces, including buses and taxis.
Vector Media also touts the only double decker advertising network in North America, which includes large format advertising opportunities on double-decker buses in New York, Los Angeles, Chicago, Miami, Philadelphia, Boston, San Diego, San Francisco, Las Vegas, Phoenix, Pittsburgh, Washington D.C. and Vancouver.
The company has recently expanded into the digital out-of-home arena, introducing the South Beach Network and Visual Limits Casino Advertising. These networks offer clients the opportunity to reach a highly-coveted and captive demographic through an exciting new form of media.