Gail Chiasson, North American Editor
A whitepaper entitled 'NFC and Marketing: Bridging the Gap', which is a collaborative project between Gauge Mobile, Newad and Astral Out-Of-Home and believed to be the first of its kind in Canada, provides in-depth research, analysis, and case studies on Near Field Communications.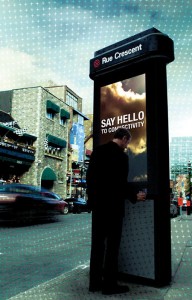 "We found that there wasn't a lot of publicly available information on this exciting new technology, especially on how it applies to marketing," says Tony Vassiliev, co-founder of Gauge Mobile.
"As a leader in NFC and mobile marketing in Canada we wanted to fill that void for marketers. Our partners contributed immensely by providing relevant research, content, and Canadian case studies. It was a collaborative effort which we hope will provide clarity to an important, but sometimes confusing, area of mobile marketing."
70% of smartphone owners see NFC as an important feature in their next phone, according to a recent study by PosterScope and Clear Channel.
The same study also found that 60% of those that have an NFC-enabled phone don't realize it.
"NFC has many exciting use cases, but a lot of education is still required to help both consumers and marketers become aware of the enormous potential it holds," says Jerrid Grimm, vice-president client service at Newad. "This whitepaper is a step in the right direction."
NFC chips or tags can be embedded into 'smart posters,' product packaging, magazine ads, promotional items, and more. By simply tapping an NFC-enabled smartphone to a 'smart poster', consumers can gain instant access to a world of rich media, including product information, videos, special offers, coupons, music, ticketing, and more. NFC can also be used for identification or authentication purposes (e.g. check in at the airport or a hotel).
Based on the latest numbers from ComScore, 15.6% of Canadian smartphones are already NFC-enabled, while the penetration in United States is at 10%, but growing quickly. Juniper Research suggests that one in five smartphones will have NFC by 2014.
The whitepaper is free of charge to the public here.
Gauge Mobile develops and executes proximity marketing solutions that allow brands to engage with today's mobile consumer. Their cloud-based analytics platform enables traditional media (TV, Radio, Print, Outdoor, Direct Mail), to engage consumers through their mobile devices by using bridging technologies (SMS, QR Codes, NFC) to deliver rich content, gather feedback and process transactions. The data is then aggregated across campaigns and media channels to help understand consumer behaviour, improve customer experience with personalized offers and allocate the marketing budget more effectively.