Outdoor Plus is poised to launch a new premium digital advertising site for advertisers looking to attract an urban and affluent business and regular commuting audience in and around the up and coming Vauxhall area of South London.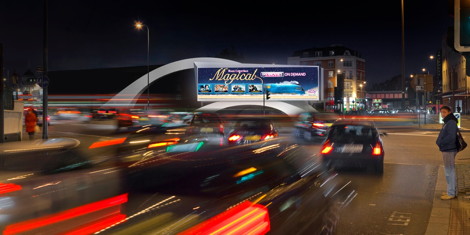 Two new high definition digital screens will be located on Vauxhall Cross Island, one of Central London's major traffic hubs and will be launched next week with first advertiser client as Sky.
Grant Branfoot, Sales Director, Outdoor Plus told us "Our ongoing commitment to digital outdoor continues with this launch of our Vauxhall Cross site. The screens will deliver great impact to a high-value audience in an unmissable and unforgettable way with ultra-sharp imaging and creative opportunities. We're excited to see this launch – its an up and coming area following huge investment and it adds massive weight to our portfolio of premium advertising products".
The screens, which will deliver nearly 2 million vehicular impacts every 2 week period are no doubt, an impressive addition to the company's growing portfolio of premium digital sites in and around the capital.
Vauxhall Cross Island is one of London's primary outdoor advertising locations, its heritage and prestige are second only to the Cromwell Road in terms of the planning and buying of stand-out campaigns. The area which is just south of Vauxhall Bridge has recently undergone a GBP 400 million regeneration programme and this impressive digital site has been integrated into an architectural surround on the island, making the screens impossible to miss.