Adrian J Cotterill, Editor-in-Chief
Either you folks don't enter Awards like these (even when entry is free) or the judges don't look hard enough when putting together the list of finalists?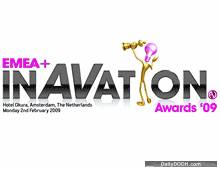 Perhaps it says something about our coverage of the industry because during the year we actually covered 3 of the 4 'Most InAVative Digital Signage Project' finalists BUT let's get one thing clear from the start, the four deployments listed below are NOT representative of the best digital signage rolled out in Europe during 2008 (not by a long way)…
We reached out to the organisers of this event in plenty of time last year so it's actually doubly disappointing in what a poor job has been done. None of the four listed above are particularly bad but we don't feel that they represent the innovations that have gone on in 2008 particularly well NOR show the industry off to best affect.
Some of the best deployments last year were surely in branded fixtures (think signagelive's Estee Lauder install), gesture recognition, big retail windows, the innovative use of 3D (what about Cityscape Media's Virtual Shop) and just think about some of the great shopping mall installs we have had with digital 6-sheets etc.
To be fair though, in the awards' current format the judges can only judge what is put in front of them and there were, we believe, only 100 submissions for all 8 award categories, so probably at most no more than a dozen 'digital signage' installations from which to choose?
At this point though, our suggestion was that the judges should have actively encouraged some of the better projects (that we all know of) to enter.
The industry deserves better than this but at the end of the day, in its current 'enter-and-you-shall-be-considered-format' this is YOUR fault for not entering!!!
Anyway, good luck to all of the finalsts, our pick to win is the SCREEN New Technologies GmbH Audi Forum installation which was also one of the finalists in last year's Viscom Franfurt's Best Practice Awards
Winners of awards will be announced at the InAVation Awards gala dinner on Monday 2nd February, Hotel Okura, The Netherlands.