Gail Chiasson, North American Editor
What started out as a promotional small digital screen device for business individuals, companies and media has quickly become a hot new consumer product.
Sean John and Macy's have teamed up with Recom Group's innovative Video Name Tag to introduce the world's first integration of video and fashion. The small screen that we originally saw as a wearable business card and product information device has been incorporated into the sleeve of a Sean John sweater available in a limited selection of Macy's stores in major U.S. metropolitan markets. (For those who are unfamiliar with the brand, Sean John Clothing Inc is a clothing and fragrance company owned by hip-hop mogul Sean Combs.)
Durand Guion, Macy's vice-president of Men's Fashion, first saw Recom's technology at the Consumer Electronics Show in January of this year. It was the first time Recom had shown its technology incorporated in clothing. Since its business introduction, it had become fashion accessory seen at clubs, at events to gain attention, and at sport venues to support favorite teams.
"We are seeing more and more uses of this for fun and attention," says Rob Norden, president and CEO of Recom Group, San Dimas, California. "There is nothing else like it! I landed a deal to have our Video Name Tags and Wristbands used on Rihanna's last world tour, simply by standing outside Staple's Arena at the Grammy Awards. It created so much attention that Rihanna's sponsors/management team came to me."
We asked Norden how you would wash or clean the Sean John sweater incorporating the screen.
"Our Fashion Video Tag slides into a pocket on the Sean John sweater," he says. "This makes it waterproof as it is sealed. "Otherwise you can simply clip our Video Tag onto your clothing with the magnetic clip. It's strong and will even hold on jackets."
And what about the video?
"Our Video Name Tag comes with software to convert any Youtube Video, or personal video from your camera to play on our tag. You plug the USB connector from our tag to your computer and it's a simple drag and drop to load a video. You can even program and create playlists."
The tag will hold up to 2gb of content.
"You can play a continuous video nonstop for eight-to-10 hours from a single charge," says Norden. "The Organic LED is very green and consumes very little energy."
The sweater by Sean John is just the first of potentially many other garments designed to hold and display the personal video screen. A Brooch/Bling, Buckle and Wristband are not in Macy's yet, but are available online.
At the Consumer Electronics Show, a CNN Tech Report called Recom Group's technology one of the five top innovations out of 20,000 new product introductions.
Norden says, "Our technology allows us to put video screens just about anywhere. Video screens are an integral part of our lives from our phones to our homes. Clothing was a natural extension. We love what Sean John has created to embrace this new fashion accessory."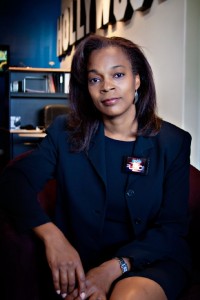 Since its introduction, the product has been used by and seen on CBS Television, NBC's Today Show, ABC's Broadcast of the NBA Finals, ABC's Good Morning America and CNN's coverage of both the Democratic and Republican National Conventions.
And since it was originally a B2B product, we asked what's happening on that side.
"We have a long list of major clients using them with great results," says Norden. "Verizon stores, GameStop and others have increased retail sales by as much as 30%."