NEXCOM have announced a new OPS digital signage player, the NDiS M422 which is aimed at interactive kiosks and signage applications requiring an energy efficient processor and high graphic performance.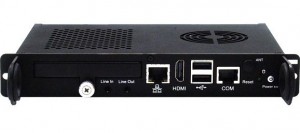 Designed with value and performance in mind, the M422 features an AMD Embedded G-Series T56N 1.65GHz dual core processor with Radeon™ integrated graphics, hardware decoder, wireless connectivity, various external connections and a 2.5″ SATA HDD, all in a compact OPS design.
As digital signage evolves, they believe that users are demanding more innovative experiences and services, such as 3D visuals along with multi-touch and gesture control. To meet these requirements, the M422 is equipped with an energy efficient processor and discrete-level graphics to deliver advanced 3D graphics (no, we're not quite sure what that means exactly either). Businesses can use a combination of Full HD video, 3D animation, multi-touch and gesture control to create an immersive customer experience for their signage and kiosk applications.
In addition to high graphic performance, the M422 comes with built-in hardware decoder for streaming live video from media servers, and an optional WWAN/ WLAN/ TV tuner module to provide wireless connectivity or broadcast TV programs. System administrators can monitor and manage the player remotely as well as upload new digital signage content.
Apart from signage and kiosk applications, the M422 provides many application possibilities. It can be fitted into OPS projectors, electronic lecterns, as well as applied in smart board and video conferencing applications.
Despite its small size, the M422 features an internal JAE 80 pin connector (ie the internal OPS connector), one Gigabit LAN for network connectivity, serial port for external device control, audio connectors and a 2.5″ HDD drive for storing signage content, as well as one extra HDMI port for dual displays.
Because it is OPS based, the M422 is easy to install and maintain. Combined with energy efficient processor and good graphics, NEXCOM reckon the M422 is a cost effective solution which is especially designed for systems integrators seeking innovative ways to create compelling digital experience for customers.