Adrian J Cotterill, Editor-in-Chief
Even though we like the concept shown here we are not sure who would stump up UK PDS 500 a day to rent these in UK which is the pricing quote in the press release we launched from PSP last Friday.
People need to figure out (in fact, No! people need to be shown!!!) how to be really creative with these and then figure out how to create some ROI with them (always the problem with new technologies being introduced into a a market of course).
Just take a look at the launch photos – looks like something out of a 1960's IBM / DEC computer brochure – we think they need some help with the image and their brand.
To be fair the pictures we have seen previously over on sites like engadget have been kinder and are well worth a look.
Anyway, it is claimed that a 3D-holocube provides an innovative advertising medium and we quote "offers a new way of enhancing brand experience …. ideal for point of sale applications within the retail market, product launches and live events and exhibitions"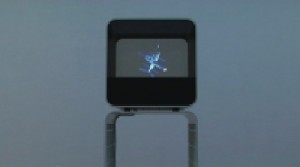 The 'pod' within which the 3D hologram is viewed is manufactured from either aluminium or synthetic materials and comes in black or white as standard, but can be specially commissioned in a variety of colours to tie in with a client's corporate image.
The 'pod' measures 52cm cubed and is light enough to be be wall-mounted and it can also come with an optional display stand.
The 3D-Holocube has a USB interface and a built-in 40GB hard drive and one switch boots up the system in just 10 seconds.
PSP general manager, David Woodcock told us "Content needs to be specially produced but this is a service we provide alongside the rental of the 3D-Holocube unit itself. Images can take anything from half a day to produce something simple like a company logo, to a week for more complex projects."
About PSP

PSP provides state-of-the-art audiovisual equipment and specialist project management solutions for live events.