Russ Curry, Ministry of New Media
Lucky Robert Lomnitz was back on stage for a second time (first time to collect a 'Reggie' for 'Best QSR, Bar or Restaurant Deployment' on behalf of the absent Ken Goldberg) to pick out the winner of the spectacular Six Nations Tickets that his company was offering.  
'Lucky' because this time he got to meet the delightful Gabrielle Butler from EYE Corp, who collected the prize on behalf of Mick Scannell, MD of  Outlook Outdoor Media.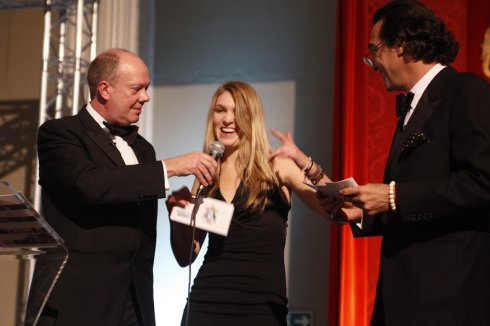 Integrated Signage Solutions and Walkway Media offered two of the best seats at Twickenham for the England game against France on February 23rd in the RBS 6 Nations Tournament – a game which might be the championship decider !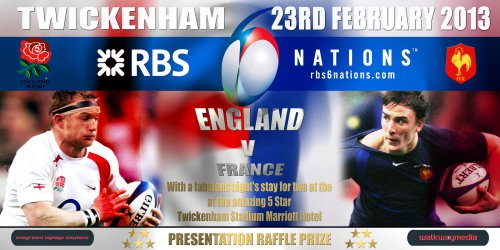 And on top of that, they have thrown in a complimentary stay for two at the luxury Marriott Hotel overlooking the stadium – including a sumptuous match day breakfast to set you up for the exciting day ahead. A superb weekend sporting spectacular where romance and sport do mix!
David Da Costa CEO said "Integrated Signage Solutions and Walkway Media are delighted to support The DailyDOOH Gala Awards by offering a sporting raffle prize which we hope helped kick off what turned out to be a great fun packed evening."