Adrian J Cotterill, Editor-in-Chief
One of the perils of being public. We noticed this Form 8-K for BROADCAST INTERNATIONAL INC where they have had to state that back on December 7, 2012, they were informed by their largest customer, that its contract to provide digital signage services that had previously been extended to February 1, 2013, would be extended through April 30, 2013 and would then terminate.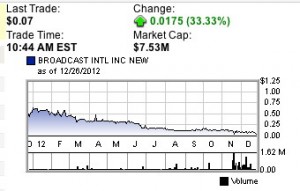 Their largest customer is of course the Bank of America that is currently going through a tortuous RFP process for digital signage provision.
The Form 8-K does mention that Broadcast International will continue to provide managed media services to the Bank of America for a three year period but it's our understanding that 'managed media services' is broadcast TV and audio into the branches and is simply a resale of DirecTV.
The Form 8-K also makes mention that, we quote "a substantial portion of the Company's revenues from the customer are for the digital signage service" – if it's as much as 90% of their revenue, as we estimate, it can surely only mean that Broadcast International will soon be toast.