Gail Chiasson, North American Editor
Toronto's historical Crescent School for boys (founded in 1913) has embraced a new form of dynamic communication on campus in the form of a centralized digital signage network located in five key areas throughout the school.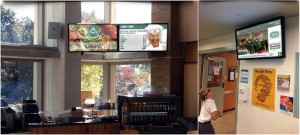 Using Scala software via Dot2Dot Communications, the small network keeps students updated, informed and engaged. Offering information on everything from bus schedules to news, announcements and house standings, the network also provides peace of mind that emergency alerts can be broadcast instantly should the need arise.
Crescent School haven't simply taken the opportunity to enhance their internal communications. They are investing in training the students who then manage and run the network themselves on a daily basis. Dot2Dot Communications hosted an onsite two-day work shop where hands-on training on Scala Content Manager and Designer was provided for key students and staff. Participants called the work shop 'incredibly convenient', 'helpful' and 'supportive'. And the results show.
"Crescent TV is definitely having an impact," says Spencer Belyea. A grade 12 student and the school's Communications Prefect. "We control the look and feel of the content. We're delivering on-campus news and highlights quickly and dynamically. Both students and faculty are keen to get their own announcements on the screens – from school sports results to charity fundraiser reminders. They want it up there. Everyone feels a part of the process and they're looking at the screens with a sense of ownership."
Andy McRae, General Manager, Dot2Dot Communications approves that sentiment wholeheartedly, "This is exactly what we're looking to achieve as we work with schools to implement a digital communications solution. As part of Dot2Dot's Education Bundle we emphasize the importance of getting students involved and taking ownership in the network, Crescent is doing just that."
The screens usefulness goes far beyond the schools' common areas. One teacher has embraced and brought the technology into the gymnasium. Rather than handing out paper, a 47" LG touch screen has become a great resource for interacting with students on a particular day's lesson. It also runs a program that monitors the student's vital signs while they are doing exercises.
Dot2Dot Communications, based in Toronto, is the Canadian Master Distributor for Scala digital communications software. Based in Toronto, Canada,